Condenser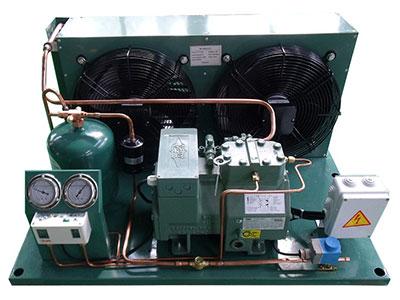 Air-cooled condenser
because air has a low thermal conductivity, its condensing temperature is generally higher, which causes an increase in the condensing pressure, a decrease in the refrigeration unit efficiency, and an increase in the energy consumption. For the best performance, the most suitable usage area is an environment where the outdoor temperature is generally low during the summer. In addition, this air-cooled condenser can work best with the refrigerant at a low condensing pressure. Its greatest advantage is that it does not require any cooling water, making it ideal for areas where there is a water shortage or water supply is difficult.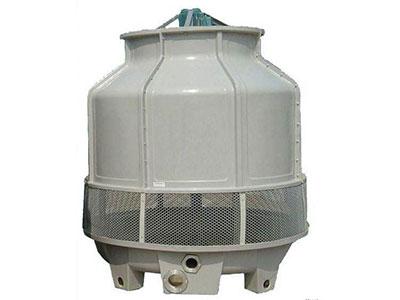 Water-cooled condenser
Natural water generally features a low temperature and an excellent heat transferring performance. Therefore, the condensing temperature in a water-cooled condenser is low, which is beneficial for the refrigeration capacity and economic performance of the compressor. Currently, this condenser type is widely used in industrial refrigeration systems, and to preserve water resources, a cooling tower can be used to cool the outlet water temperature, allowing water to be recycled and used again.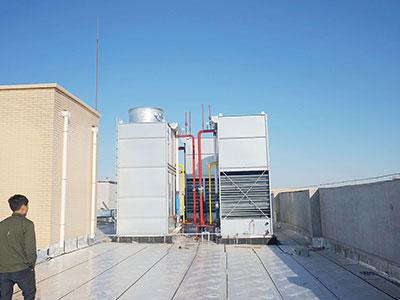 Evaporative condenser
The heat released by the refrigerant is absorbed using the latent heat from the vaporization of cooling water. This means that the transfer of the condensing heat requires only a small amount of water. In practical applications, water consumption is only 5-10% of a general water cooled condenser.
To sum up, all condensers have advantages and disadvantage. Different condensers have different condensing temperatures and pressures, as well as different economical efficiencies. The energy consumption of the refrigeration equipment will be directly affected, so all aspects must be carefully considered.
Evaporator
In an actual engineering design, evaporators usually consider two factors: type of evaporator and heat transferring area.
In recent years, the design and selection of heat exchangers have consistently chosen a smaller heat transfer temperature difference and increased heat transfer area. This means increasing the investment and reducing operating costs. By increasing an initial investment, the energy consumption throughout the year is lowered by taking the time to choose the right equipment. With a decrease in the operation costs, the initial investment will be recouped faster due to the energy saving performance, thus leading to higher economic benefits.
Throttle device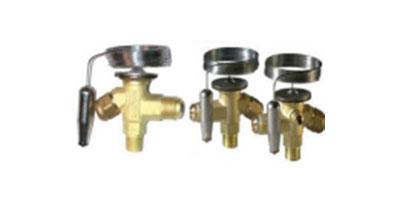 The throttle device is usually a thermostatic expansion valve. It will not cause a decrease in the efficiency consumption, but it will directly affect the refrigeration performance in the refrigeration equipment, operation efficiency and energy consumption.
The volume of the throttle device will change according to working conditions. It should be selected according to manufacturer's performance table. The balance method, evaporating temperature, pressure difference before and after valve and valve inlet liquid temperature should also be taken into full consideration in order to determine the correct volume coefficient. It can ensure the thermal expansion valve better matches the refrigeration device, and ensures that the refrigeration device stays in the best running state for the best energy saving performance.