Our IQF self-stacking spiral freezer is the perfect solution for quick and even freezing of your products. The vertical cold airflow area ensures that each product is individually frozen, resulting in a continuous large output. Plus, the ice crystal formation area ensures that your products are frozen evenly and quickly and are always delicious and juicy.
Our IQF self-stacking spiral freezer is designed to cater to all your needs. It can freeze all common products, including poultry, cut meat, prepared products, ready-to-eat products, wheaten food, baked products, aquatic food, and more. It is especially suitable for products that require high cooking temperature and high-quality standards, such as frying, baking, and steaming.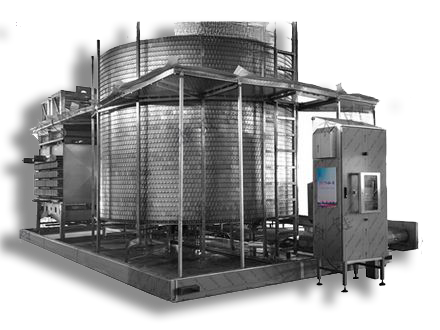 Specifications
Model
Size (mm)
Power rating
Number of fans
Output (kg/h)
Belt width (mm)
Food tunnel
Speed (m/min)
Outfeed temperature
Internal temperature
HSF6624
7600*4200*3600
24kW
2
1000
660
65-105mm
3.5-30
-18~-20℃
-35℃~-40℃
HSF6634
7600*4200*4400
26kW
2
1500
660
3.5-30
-18~-20℃
-35℃~-40℃
HSF6642
7600*4200*5100
26kW
2
2000
660
3.5-30
-18~-20℃
-35℃~-40℃
HSF7630
8850*4800*4200
39kW
2
2000
760
3.5-30
-18~-20℃
-35℃~-40℃
HSF7635
8850*4800*4600
39kW
2
2500
760
3.5-30
-18~-20℃
-35℃~-40℃
HSF7640
8850*4800*5000
39kW
2
3000
760
3.5-30
-18~-20℃
-35℃~-40℃
HSF9235
10200*6400*4900
66kW
3
4000
920
3.5-30
-18~-20℃
-35℃~-40℃
HSF1040
12900*8400*5000
81kW
4
6000
1060
3.5-30
-18~-20℃
-35℃~-40℃
Example
chicken nuggets
The infeed temperature is 65℃ and the outfeed temperature is -18℃.
Optional
infeed direction, layer spacing, number of fans, total layers of belts, direction of rotation, belt width
Features
Unique conveyor belt system: Our closed product freezing area maximizes cooling capacity, while preventing product blow-off. The belt requires only a small power motor, which means significant energy savings. Additionally, our belt features an automatic tensioning device to prevent it from turning over.
Efficient vertical airflow: Our IQF spiral freezer features a centrifugal fan with large air pressure and air volume, requiring fewer fans. The fan is placed on the "dry side" of the evaporator, optimizing airflow velocity through the evaporator. Vertical cold airflow is delivered quickly to the freezing area, resulting in shorter quick-freezing time, lower drying consumption, and higher quality products.
Our highly efficient stainless steel tube evaporator is crafted with aluminum-magnesium alloy cooling fins, ensuring easy cleaning and defrosting
With an adjustable air pressure balance device, our system balances airflow and increases cooling capacity, preventing heat exchange inside and outside the shell.
Our automatic defrosting system (CADF) improves the heat exchange efficiency of the evaporator and extends the equipment's running time.
Our cleaning system ensures no bacteria residue, providing a more hygienic environment.
Our bottom plate design prevents cold leakage and bridging, reduces power consumption, and avoids submergence of the floor insulation layer in water.
Our freezer is designed with hygienic standards in mind, featuring a small footprint, and easy-to-clean structure, ensuring the efficient use of space.
Applications
Howcool is known to be a trustworthy cold storage company, with a firm commitment to providing cold storage warehouse solutions for global customers. Whether you are food manufacturer, pharmaceutical company, or restaurant that requires cold chain storage, we have the ability and expertise to help solve your cold storage challenges. At Howcool we make sure to understand your requirements, supply you with highly efficient refrigeration equipment and quick freezing systems, and help take care of your cold supply chain and temperature-controlled warehouse solutions. We invite you experience how we can help your business, and you will not be disappointed giving us this opportunity.